Last updated: April 1, 2020
2019 novel coronavirus (COVID-19) resources compiled by the Anesthesia Patient Safety Foundation (APSF). Information posted to this resource center is evolving daily. Please visit the site often for the latest updates to the information.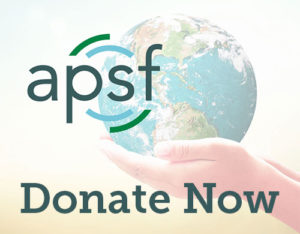 APSF has been working tirelessly to get the most updated COVID-19 information available for anesthesia clinicians and other healthcare professionals. Perioperative considerations, airway management, PPE, and more – plus an infographic, FAQs and links to key organizations. Please support our efforts with your contribution – no matter the size, it absolutely will make an impact. Thank you for your commitment to the safety of patients and of healthcare professionals during this evolving pandemic.
Articles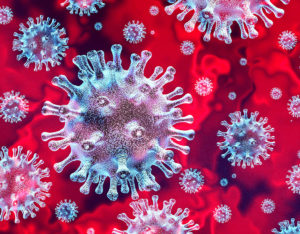 Perioperative Considerations for the 2019 Novel Coronavirus (COVID-19)
The 2019 novel coronavirus (COVID-19, also known as 2019-nCoV) outbreak in Wuhan, China is rapidly approaching a pandemic as the number of countries with victims continues to grow. As of February 10, 2020, over 40,000 cases…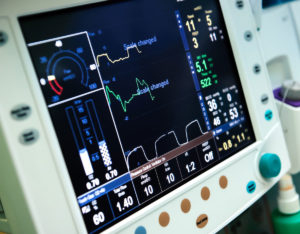 COVID Activated Emergency Scaling of Anesthesiology Responsibilities (CAESAR) Resources Now Available
The Anesthesia Patient Safety Foundation, Society of Critical Care Anesthesiologists, Society of Critical Care Medicine, and American Society of Anesthesiologists have produced educational information that all anesthesia professionals can use…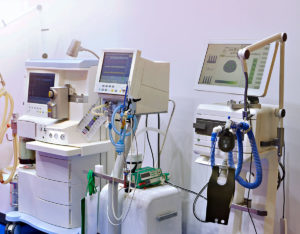 Recommended Strategies from the U.S. Public Health Service to Optimize Provision of Mechanical Ventilation
On March 30, 2020 the U.S. Public Health Service released its recommendations for managing COVID-infected patients who have respiratory failure when the availability of ventilators and other ventilator support resources…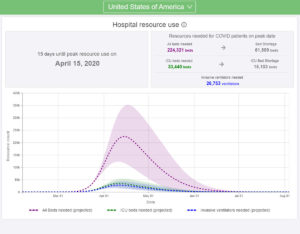 New Predictive Information from the Federal Government For Anticipated Peaks and Needs for ICU Beds and Ventilators by State
The federal government has released predictive data by state for the anticipated need of ICU beds and ventilators during this current COVID pandemic. The predictions also include the potential date…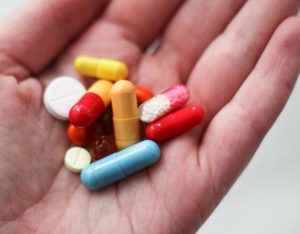 Summary of Chloroquine and Hydroxychloroquine Drug-Drug Interactions
COVID-19 is a rapidly emerging and devastating pandemic disease. Recently, chloroquine (CQ) and hydroxychloroquine (HCQ) have been suggested for possible off-label use for patients suffering from…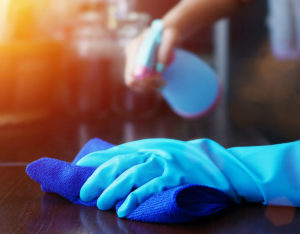 Optimizing Infection Control and OR Management During the COVID Pandemic
Many of the principles learned over the past decade for improving infection control within operating rooms and managing the use of these rooms can provide very important ideas of how…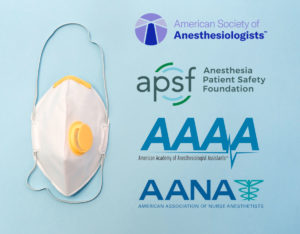 UPDATE: The Use of Personal Protective Equipment by Anesthesia Professionals during the COVID-19 Pandemic
The American Society of Anesthesiologists (ASA), Anesthesia Patient Safety Foundation (APSF), American Academy of Anesthesiologist Assistants (AAAA) and American Association of Nurse Anesthetists (AANA) believe that the safety…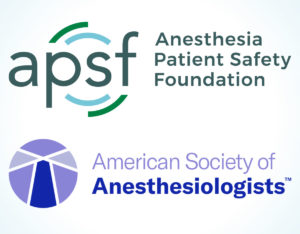 ASA-APSF Joint Statement on Non-Urgent Care During the COVID-19 Outbreak
The American Society of Anesthesiologists (ASA) sets standards of practice for the more than 55,000 physician anesthesiologists in the United States. The Anesthesia Patient Safety Foundation (APSF) promotes the safety…
Joint Statement on Multiple Patients Per Ventilator
The Anesthesia Patient Safety Foundation (ASPF), Society of Critical Care Medicine (SCCM), American Association for Respiratory Care (AARC), American Society of Anesthesiologists (ASA), American Association of Critical‐Care Nurses (AACN), and American College of Chest Physicians (CHEST) have…
---
Media and Guides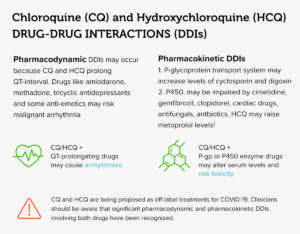 Chloroquine (CQ) and Hydroxychloroquine (HCQ) Drug-Drug Interactions (DDIs) Infographic [PDF]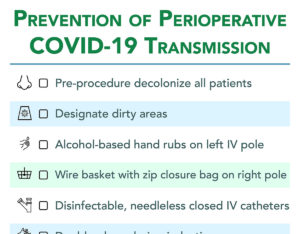 Prevention of Perioperative COVID-19 Transmission Infographic [PDF]
OR Management During COVID-19 Crisis Infographic [PDF]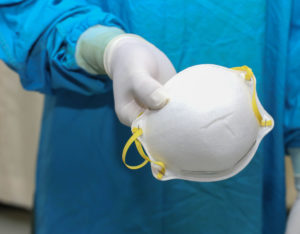 UPDATE: Potential Processes to Eliminate Coronavirus from N95 Masks
The APSF recognizes that there is great interest and need for re-using N95 masks during this period of mask shortages. Descriptions and references for the use of hot air and room air drying, ultraviolet light, and hydrogen peroxide vapor-linked processes to eliminate coronavirus from N95 masks are provided…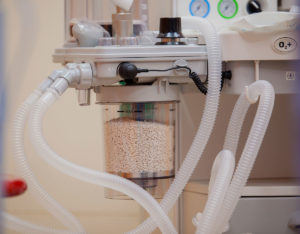 APSF/ASA Guidance on Purposing Anesthesia Machines as ICU Ventilators
Anesthesia machines are equipped with ventilators that in many cases are capable of providing life-sustaining mechanical ventilation to patients with respiratory failure. They are used for this purpose every day in…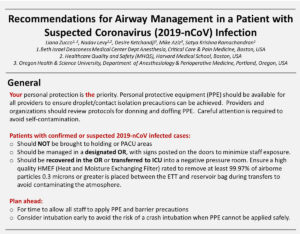 Recommendations for Airway Management in a Patient with Suspected Coronavirus (2019-nCoV) Infection [PDF]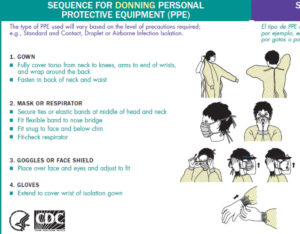 CDC Guidelines on Donning and Doffing [PDF]
---
Frequently Asked Questions (FAQ)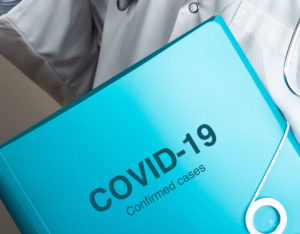 COVID-19 and Anesthesia FAQ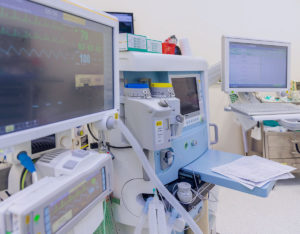 FAQ on Anesthesia Machine Use, Protection, and Decontamination During the COVID-19 Pandemic
---
Helpful Links
Global Impact Links
Johns Hopkins Coronavirus Infection Map
Provided by the Center for Systems Science and Engineering (CSSE) at Johns Hopkins University
Anesthesiology
COVID-19 Response and Perioperative Implications
Pediatrics
Epidemiological Characteristics of 2143 Pediatric Patients With 2019 Coronavirus Disease in China [PDF]
Centers for Disease Control and Prevention (CDC)
Interim Infection Prevention and Control Recommendations
N95 and Personal Protective Equipment Supply Strategies
Recommendations for COVID-19 Potentially Exposed Healthcare Professionals
Recommendations for the Peripartum Patients
CDC Guidelines on Donning and Doffing [PDF]
COVID-19 Clinical Research
Preparing for a COVID-19 pandemic: a review of operating room outbreak response measures in a large tertiary hospital in Singapore
World Health Organization
WHO Health Topic: Coronavirus (COVID-19) Disease
WHO: Coronavirus Disease (COVID-19) Outbreak Information and Guidance
Societies
American Society of Anesthsiologists (ASA)
Coronavirus (2019-nCoV) Information for Health Care Professionals
American Association of Nurse Anesthetists (AANA)
Anesthesia Care of the Patient with Coronavirus Disease 2019 (COVID-19)
American Academy of Anesthesiologist Assistants (AAAA)
Information for AAAA meeting and Coronavirus
American Society of PeriAnesthesia Nurses (ASPN)
Statement on Coronavirus [PDF]
Association of periOperative Registered Nurses (AORN)
COVID-19 (Coronavirus) AORN Tool Kit and Resources
Society of Critical Care Medicine (SCCM)
Caring for Criticall Ill Patients with Novel Coronavirus
Occupational Safety and Health Administration (OSHA)
Guidance on Preparing Workplaces for COVID-19
The Society for Healthcare Epidemiology of America (SHEA)
Novel Coronavirus 2019 (2019-NCOV) Resources
American College of Chest Physicians (CHEST)
Updates, Guides and Recommendations