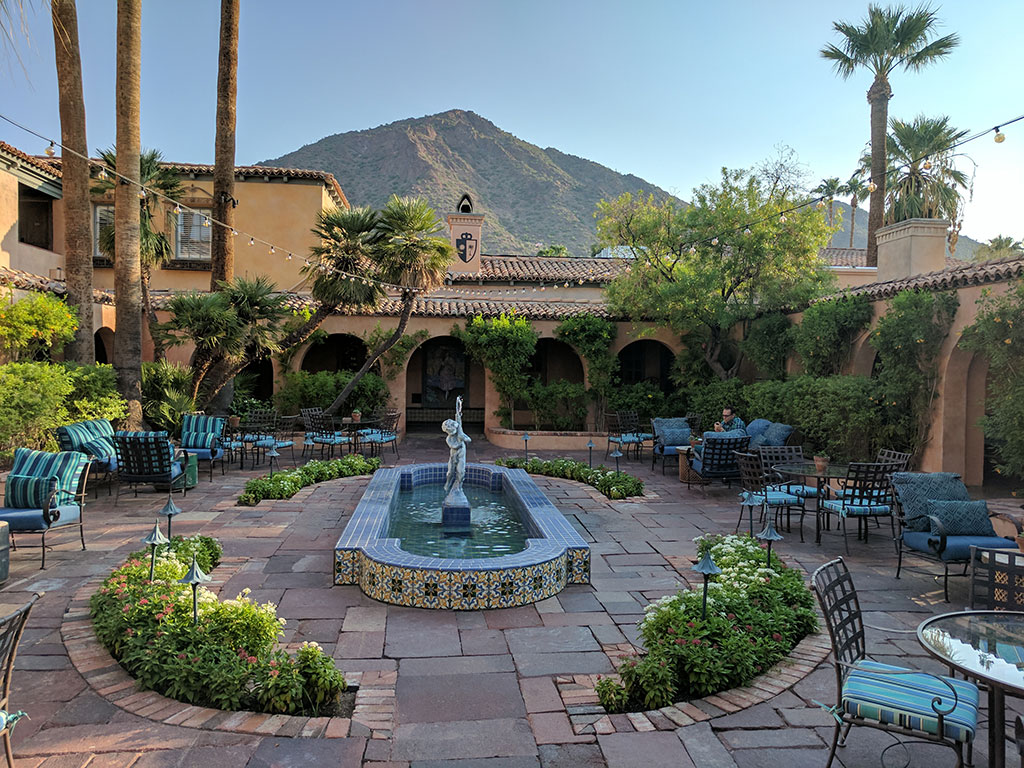 APSF Stoelting Conference 2018
September 5

-

September 6
Event Navigation
---
2018 APSF Stoelting Conference Perioperative Medication Safety: Advancing Best Practices
Co-hosts:
Mark A. Warner, M.D.
David B. Goodale, D.D.S., Ph.D.
Timothy Vanderveen, Pharm.D.
September 5-6, 2018
Royal Palms Resort and Spa
Phoenix, AZ
A special thank you to our Stoelting Conference Supporters:
For more information about the benefits of sponsoring the conference, please contact Sara Moser at moser@apsf.org.
Registration
Download the 2018 Stoelting Conference Registration Form [PDF]
Please email the completed form to Stacey Maxwell at maxwell@apsf.org.
Hotel Reservation link: https://book.passkey.com/e/49547394
---
Objectives
The APSF held a consensus conference on medication safety in 2010.  The link to the summary from the APSF Newsletter for the 2010 conference is below.
https://www.apsf.org/article/successful-implementation-of-the-new-paradigm-for-medication-safety-standardization-technology-pharmacy-and-culture-stpc/
Regrettably, patients undergoing anesthesia continue to be harmed by medication errors, both intraoperatively and perioperatively. While it appears that there has been improvement in medication safety over the past two decades, the improvement has been tenuous, inconsistent, and insufficient.
The objectives of this meeting are to:
Understand the current extent of knowledge and gaps in understanding related to medication safety and other factors that contribute to patient harm associated with the use of medications and errors in their administration.
Review potential toxicities of commonly used anesthetic drugs, highlighting deficiencies/inconsistencies with currently approved FDA labeling.
Learn what impact periodic drug shortages may have on perioperative patient safety.
Discuss opportunities to reduce patient harm from perioperative medication use.
Craft specific recommendations that APSF and others can use to influence changes that improve perioperative medication safety and encourage the development and FDA approval of new anesthetic drugs.
---
Program
TUESDAY, SEPTEMBER 4, 2018
6:00 – 9:00 PM
Pre-conference Reception
WEDNESDAY, SEPTEMBER 5, 2018
6:30 – 7:30 am
Full Buffet Breakfast and networking
Introduction
7:30 – 8:15 am
Welcome, why are we here, and what are our expected outcomes?
Mark Warner
Introduction of 2018 APSF Safety Recognition Award Recipient: Best Practices for Safe Medication Administration During Anesthesia
Why this conference's topic really matters
May Pian-Smith
Session 1:  How Safe Are our Most Commonly Used Anesthetics?
8:15 – 9:00 am
Sevoflurane and Desflurane: Hepatotoxicity
Dolores Njoku
Nitrous Oxide: Vitamin B12 Destruction and Myeloneuropathy
Kirk Hogan
Sulfites:  Here, there, and everywhere
Max Baker
9:00 – 9:15 am
Mid-morning break
9:15 – 10:30 am
Propofol:  Syndrome and frenzy examined
Dave Goodale
Safe and Effective Use of CO2 Absorbents
Jeff Feldman
FDA and Generic Drug Labeling Updates
Raeford Brown
Panel Discussion
Panelists
10:30 – 11:00 am
Mid-morning snack break
Session 2:  Drug Shortages Affecting Patient Safety
11:00 am – 12:15 pm
Drug Shortages
Erin Fox
Patient Safety Implications of Drug Shortages
Tricia Meyer
New Anesthetics Ready for Rapid Development
Dave Goodale
Panel Discussion
Panelists
12:15 – 1:00 pm
Lunch
Session 3:  Reducing Medication and Administration Errors
1:00 – 2:30 pm
Estimating Patient Deaths and Harm from Medication Errors
Kevin Kavanagh
Medication Safety and Networked Surveillance in Anesthesia
Joyce Wahr
Factors Contributing to Medication Errors
Julie Boytim
Drug Concentration Standardization
Elizabeth Rebello
The ASHP Standardize-4-Safety Project
Deb Pasko
Panel Discussion
Panelists
2:30 – 2:45 pm
Mid-afternoon break
2:45 – 4:15 pm
ISMP Perspectives on Standardization of Labels and Vial Colors
Ron Litman
Intravenous Medication Administration: Potential for Harm
David Jamison
Intravenous Medication Administration:  Smart Pumps and Other Approaches to Reduce the Potential for Harm
Tim Vanderveen
Panel Discussion
Panelists
Session 4:  Opioid-Induced Ventilatory Impairment
4:30 – 5:00 pm
Perioperative Opioid-Induced Respiratory Depression Update
Frank Overdyk
Oxygen Monitoring:  Brain versus Finger-Tip
John Murkin
5:00 pm
Adjourn
6:00 – 9:00 pm
Mid-Conference Reception
THURSDAY, SEPTEMBER 6, 2018
6:30 – 7:30 am
Full Breakfast Buffet and networking
Session 5:  Implementation of a Comprehensive Perioperative Drug Safety Program
7:30 – 8:30 am
Evaluation and Actions: One Institution's Story
David Bates
A Comprehensive Approach: Seattle Children's Hospital
Eliot Grigg
Panel Discussion
Panelists
8:30 – 8:45 am
Morning break
Session 6:  Specific Recommendations and Next Steps
8:45 – 10:00 am
Breakout groups
Drug Safety Group: Approaches to addressing concerns about current anesthetics?  Should we advocate for the introduction of new anesthetics? How would we do it?
Dave Goodale and Rich Prielipp
Drug Shortage Group:  Can we promote or influence actions that may decrease drug shortages or uneven distribution of perioperative medications?  How would we do it?
Steve Greenberg and Jerry Cohen
Reducing Medication and Administration Errors:  What role should we play?  Advocacy?  Support of clinical research in specific areas?  Collaborating with industry to reduce the risk of errors?
Meghan Lane-Fall and Lynn Reede
Standardization and Innovation: Should APSF advocate for medication standardization regarding drug concentrations, labelling, and administration approaches?  If yes, how should we do it?
Jeff Feldman, Tim Vanderveen, and Patty Reilly
10:00 – 10:15 am
Mid-morning snack break
10:15 – 11:30 am
Finalizing recommendations and next steps
Mark Warner, Dave Goodale, and Tim Vanderveen
Related Events