Anesthesiologists in Rwanda are truly one-in-a-million. There are currently 11 anesthesiologists in Rwanda to support a population of 11 million citizens. Most anesthetics are delivered by anesthesia technicians possessing little more education than high school equivalency. Minimum perioperative standards, such as the availability of oxygen and basic monitoring equipment, do not exist. Newly minted physicians have little opportunity to pursue residency training within their own country since residency training slots are limited by lack of teaching faculty. Therefore, many recent medical school graduates seek training overseas. They often find fulfilling careers and personal lives outside their country, making their return improbable (external brain drain). Those who do return find they may not be able to practice the medicine for which they were trained. Remarkably, the majority of recent medical school graduates in Rwanda leave clinical medicine entirely to join Non-Governmental Organizations operating in the country (internal brain drain).
It will be no surprise that this lack of anesthesiologists and suitable equipment translates into a greatly increased perioperative risk for patients. Indeed, perioperative mortality hovers around 5%, even at Rwanda's university hospital.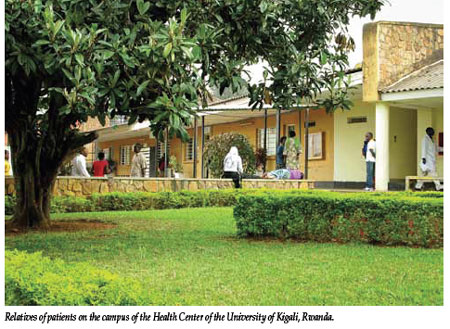 The Rwandan government has developed a bold plan to address these patient safety issues by increasing the capacity of residency training programs, growing the numbers of practicing physicians, and creating a high quality, sustainable health care system. This Human Resources for Health (HRH) in Rwanda program is a 7-year medical education initiative encompassing anesthesia, surgery, obstetrics & gynecology, pediatrics, internal medicine, and family practice. Concurrent programs will address the shortage of nurses and deficiencies in equipment and supplies. Funded by a large grant from the US government, the Rwandan Ministry of Health has contracted with 9 US medical schools to provide the faculty to train Rwandan residents and to mentor Rwandan faculty to become educators. The Clinton Health Access Initiative is providing organizational support to this effort. US candidates will be vetted through, and receive temporary appointments at, the US schools in order to participate. In August of 2012, the US schools will begin sending more than 50 physicians in the above specialties for long-term (1-year) assignments. We expect to send 4 anesthesiologists per year to Rwanda. At a later date short-term (1-3 month) assignments for sub-specialists will also be available. After 7 years, US faculty will be phased out, as Rwandan medical faculty assumes full responsibility for the residency training programs.
This is a fabulous opportunity for US anesthesiologists to participate in a program that will improve perioperative patient safety, define anesthetic practice parameters, and determine anesthetic training objectives from the ground up. In collaboration with our Rwandan colleagues, participants will determine perioperative monitoring and practice standards, define relationships with other departments such as Surgery and Emergency Medicine, and develop a curriculum for the training of anesthesia residents. The Canadian Anesthesiologists' Society International Education Foundation, in conjunction with the American Society of Anesthesiologists' Global Humanitarian Outreach program, has been working in Rwanda since 2006, supporting anesthesia residency training. The HRH program will provide the necessary resources to help transform this effort into a thriving, self-sustainable program.
When non-Rwandans hear the word "Rwanda," what immediately comes to mind is post-colonial, ethnic tension and the horrific genocide of 1994. When Rwandans think about their country today they think about post-genocide healing and tremendous hope for the future. Unity and reconciliation efforts in Rwanda (based on the South African "truth and reconciliation" model) have successfully moved the population beyond ethnic strife. Rwanda today is a very safe place to live and work. The US Department of State has no travel restrictions in place, and according to the anti-corruption watchdog, Transparency International, the government of Rwanda is among the least corrupt in all of Africa. International aid dollars are pouring in from all over the world. Rwanda's future is indeed bright. How lucky we are to have the opportunity to be a part of this monumental effort!
For more information about participation in the HRH program, please contact us at
[email protected]
Jennifer E. O'Flaherty, MD, MPH
Associate Professor of Anesthesiology and Pediatrics
Dartmouth-Hitchcock Medical Center
Craig D. McClain, MD, MPH
Assistant Professor of Anesthesiology
Children's Hospital Boston/Harvard Medical School
Marcel E. Durieux, MD, PhD
Professor of Anesthesiology and Neurological Surgery University of Virginia