Our hospital has recently purchased new IV fluid warmers and installed them in our operating rooms. Although the device is very effective at warming fluid, we have found that it can produce a significant amount of electrical interference in the operating room. This has rendered the device unusable in cases when neurologic monitoring with evoked potentials is required. As another safety concern, we have found that the device can also interfere with the ECG, making it appear as though the patient is having PVCs. We have provided in Figures 1 and 2 an example illustrating this ECG artifact. This particular patient had atrial fibrillation, and the multiple artifacts in lead V could potentially be misinterpreted as PVCs (Figure 1). As soon as the power button on the device was switched off, the artifacts disappeared (Figure 2). We are pleased to inform the anesthesia community that we have addressed this issue with the manufacturer, and they have promptly created a solution in which all devices subsequently produced will have reduced electrical interference. Additionally, the manufacturer is modifying our previously purchased devices so that they too will also produce less electrical interference.
David L. Saliba, MD
John E. Reynolds, MD
Winston-Salem, NC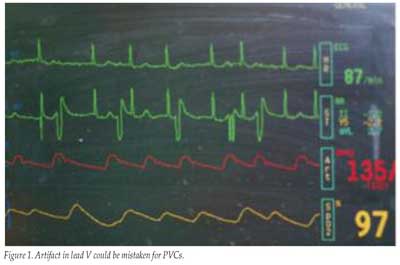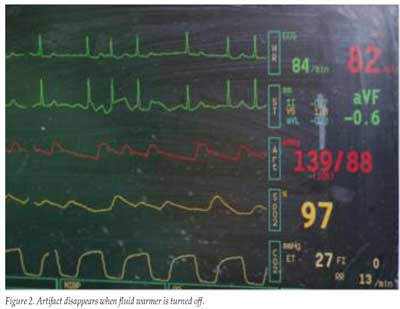 In Response:
Thank you for sharing your observations. We have previously had some minor and sporadic ECG interference reported by users of the enFlow® IV Fluid/ Blood Warming System. Some interference with neuro evoked potential monitoring has also been reported. No previous reports have involved clinical misinterpretation.The enFlow system has been used clinically over 250,000 times, and most customer feedback has been extremely positive. The product has been tested extensively and complies with applicable national and international standards, including those having requirements relating to electromagnetic compatibility with other monitors.On previous occasions when interference has been reported, we have frequently been successful in resolving the issue using standard troubleshooting suggestions (e.g., checking ECG monitoring electrode impedances, repositioning intertwined cables). We also initiated engineering efforts to further investigate and address possible sources for interference. Our efforts determined that in some unanticipated circumstances, depending on the particular characteristics of monitors in use, an electrical transient associated with the on/off cycling of the warming system could produce an artifact. Drs. Saliba and Reynolds show this in the photographs they provided. The artifact seen primarily in lead V is asynchronous with the heart rate, and other parameters are displayed normally.Our engineering efforts have led to design improvements that further mitigate the potential for interference. These improvements are the demonstrated "solution" referred to by Drs. Saliba and Reynolds in their letter. We are in the final stages of implementing these improvements in production. We intend to proactively communicate with other enFlow users.
Sincerely,
Vital Signs – A GE Healthcare Company
David Cassidy
Executive Vice President
Enginivity LLC, a subsidiary of Vital Signs, Inc.
The information in this column is provided for safety-related educational purposes only, and does not constitute medical or legal advice. Individual or group responses are only commentary, provided for purposes of education or discussion, and are neither statements of advice nor the opinions of APSF. It is not the intention of APSF to provide specific medical or legal advice or to endorse any specific views or recommendations in response to the inquiries posted. In no event shall APSF be responsible or liable, directly or indirectly, for any damage or loss caused or alleged to be caused by or in connection with the reliance on any such information.