To the Editor
I am a CRNA at Denver Health Medical Center and had a needlestick from a positive Hep C patient this year. I was positioning a patient for an interbody fusion, from a lateral approach, of L1-L5 when the incident occurred. I have been a CRNA for 12 years now and have done many spine cases in my career, so am quite comfortable with "working around" the neuromonitoring electrodes. This spine case was unique in that it was a lateral approach, for which the patient was positioned lateral decubitus. I was checking the patient's ear to ensure it was not folded over and was free from pressure, when I felt a pinch on my right index finger. When I removed my hand from under the patient's head, I had an electrode lodged into my fingertip. I immediately pulled it out and exsanguinanted my finger and initiated the OUCH protocol for my facility.
That evening I began wondering if there were any protocols for neuromonitoring technicians to follow to communicate with the anesthesia team as to the locations of their probes. Are you aware of any such protocols or formal handouts that have been used? I realize that my chance of a conversion are very low with these 0.4 mm diameter probes, but thought it might be a fine idea to improve our knowledge and communication about the location of the probes.
I have attached 2 photos of a neuromonitoring probe.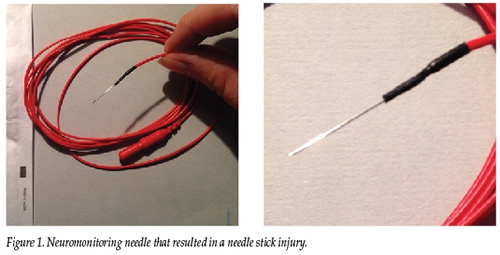 Jennifer L. Harenberg, CRNA< Denver Health Medical Center Golden, CO