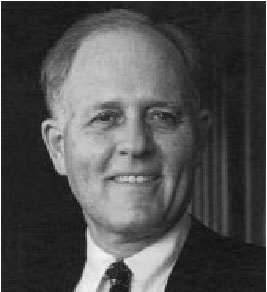 Burton A. Dole
Burton A. Dole is retiring from the APSF Executive Committee after serving for 17 years, first as treasurer and then as vice-president. At the time of the incorporation of APSF in September 1985, Burt was president, CEO, and chairman of Puritan-Bennett. He had attended the International Symposium on Preventable Anesthesia Morbidity and Mortality in Boston where he contributed to the concept of a safety foundation. Under his direction the Parker B. Francis Foundation, Puritan-Bennett's charitable arm, gave $300,000 in startup funds.
Prior to joining Puritan-Bennett, Burt was with Hewlett-Packard; after the merger of Puritan-Bennett and Nellcor, he served as chairman. During his career he was instrumental in the development of many new technologies and emerging markets, including computerized electrocardiography, computerized critical care ventilation, and continuous blood gas monitoring.
Burt's other outside activities included being chairman of the Board of the Health Industries Manufacturers Association, a director of Metlife Company, and chairman of the Federal Reserve Bank of Kansas City.
Burt has attended all three Executive Committee meetings each year and provided a broad input to development of APSF, especially combining his extensive business knowledge and, as an engineer, broad scientific help. In 1997 he received the first APSF award for service to the organization. For a number of years he and his wife Sally have acted as hosts when the Executive Committee met in San Diego. Burt Dole will be very much missed at the Executive Committee meetings; we are pleased that he will remain on the APSF Board of Directors.