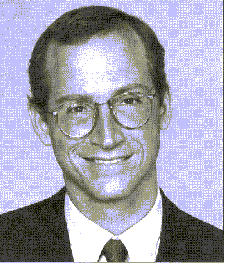 David J. Birnbach, M.D., Director of Obstetric Anesthesiology and Resident Education at St. Luke's-Roosevelt Hospital Center in New York City, has been awarded the APSF/Dryden Research Grant Pr 1995. The title of his research project is 'Skin disinfection prior to initiation of epidural anesthesia: a microbiologic assessment of a commonly utilized method of skin disinfection and evaluation of a new means of antisepsis." Dr. Birnbach is also an Assistant Professor of Anesthesiology in Obstetrics and Gynecology at the College of Physicians and Surgeons of Columbia University.
The Gale E. Dryden, M.D., Research Fund was established in 1993 within the Anesthesia Patient Safety Foundation to honor Dr. Dryden and to support research on anesthesia-related nosocomial infections.
The Anesthesia Patient Safety Foundation Newsletter is the official publication of the nonprofit Anesthesia Patient Safety Foundation and is published quarterly at Overland Park, Kansas. Annual membership: Individual $25.00, Corporate $500.00. This and any additional contributions to the Foundation are tax deductible. Copyright, Anesthesia Patient Safety Foundation, 1995
The opinions expressed in this newsletter are not necessarily those of the Anesthesia Patient Safety Foundation or its members or board of directors. Validity of opinions presented, drug dosages, accuracy and completeness of content are not guaranteed by the APSF.
APSF Executive Committee:
Ellison C. Pierce Jr., M.D., President; Burton A. Dole, Jr., Vice-President; David M. Gaba, M.D., Secretary; Casey D. Blitt, M.D., Treasurer; E.S Siker, M.D.; Executive Director; Robert C. Black; Robert A. Caplan, M.D.; Jeffrey B. Cooper, Ph.D.; Joachim S. Gravenstein, M.D.
Newsletter Editorial Board:
John H. Eichhom, M.D., Editor; David E. L&-s, M.D. and Gerald L. Zeitlin, M.D., Associate Editors; Stanley J. Aukburg, M.D., Jan Ehrenwerth, M.D., Ralph A. Epstein, M.D, Nancy Gondinger, CRNA, Robert C. Morell, M.D. Jeffrey S. Vender, M. D.
Editorial Assistance Nola Gibson, Ph.D.
Address all general, membership, and subscription correspondence to:
Administrator
Anesthesia Patient Safety Foundation
c/o Mercy Hospital
1400 Locust Street
Pittsburgh, PA 15219
Address Newsletter editorial comments, questions, letters, and suggestions to:
John H. Eichhorn, M.D.
Editor, APSF Newsletter
Department of Anesthesiology
University of Mississippi Medical Center
2500 North State Street
Jackson, MS 392164505