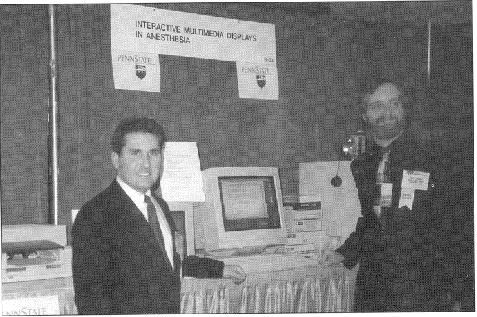 AWARD WINNER: The 1993 APSF Award for the best ASA Scientific Exhibit related to patient safety went to a group from Penn State University College of Medicine for a exhibit titled "Interactive Multimedia Displays in Anesthesia.' Pictured here are Kirk Shelley, M.D. (right), first author, and co-author Mr. Steve Mentzer. Additional co-authors were Art Schneider, M.D. and Mr. Michael Halm. Two computer programs were displayed: a departmental index and directory and an information workstation designed to assist in management of anesthesia complications.
The Anesthesia Patient Safety Foundation Newsletter is the official publication of the nonprofit Anesthesia Patient Safety Foundation and is published quarterly at Overland Park, Kansas. Annual membership: Individual $25.00, Corporate $500.00. This and any additional contributions to the Foundation are tax deductible. @Copyright, Anesthesia Patient Safety Foundation, 1993
The opinions expressed in this newsletter are not necessary those of the Anesthesia Patient Safety Foundation or its members or board of directors. Validity of opinions presented, drug dosages, accuracy and completeness of content are not guaranteed by the APSF.
APSF Executive Committee:
Ellison C. Pierce Jr., M.D., President; Burton A. Dole, Jr., Vice-President; David M. Gaba, M.D., Secretary; Casey D. Blitt, M.D., Treasurer; E.S Siker, M.D.; Executive Director; Robert C. Black; Robert A. Caplan, M.D.; Jeffrey B. Cooper, Ph.D.; Joachim S. Gravenstein, M.D.; W. Dekle Rountree, Jr.
Newsletter Editorial Board:
John H. Eichhom, M.D., Editor; David E. Lees, M.D. and Gerald L. Zeitlin, M.D., Associate Editors; Stanley 1. Aukburg, M.D. Jan Ehrenwerth, M.D., Nancy Gondringer, C.R.N.A.; Jeffrey S. Vender, M. D., Ralph A. Epstein, M.D., Mr. Mark D. Wood.
Editorial Assistant Nola Gibson, Ph.D.
Address all general, membership, and subscription correspondence to:
Administrator
Anesthesia Patient Safety Foundation
520 N. Northwest Highway
Park Ridge, IL 60068
Address Newsletter editorial comments, questions, letters, and suggestions to:
John H. Eichhom, M.D.
Editor, APSF Newsletter
Department of Anesthesiology
University of Mississippi Medical Center
2500 North State Street