Welcome to the next installment of the Anesthesia Patient Safety podcast hosted by Alli Bechtel.  This podcast will be an exciting journey towards improved anesthesia patient safety.
Our featured article today is from the June 2023 APSF Newsletter. It is "Perioperative Brain Health: A Patient Safety Priority All Anesthesia Professionals Must Address." By Natalie Moreland; Lena Scotto; Arnoley Abcejo; and Emily Methangkool.
Our focus for the show today includes a discussion of the following strategies to help keep patients safe from delirium and cognitive decline during anesthesia care: EEG-based anesthetic depth monitoring, comprehensive programs dedicated to perioperative brain health, and the development of a Brain-ERAS program.
Here are citations for the articles that we review on the show today:
Check out Figure 1 in the article to see the "Age-Friendly Health System" and the framework of the 4 Ms: What Matters, Mobility, Medication, and Mentation.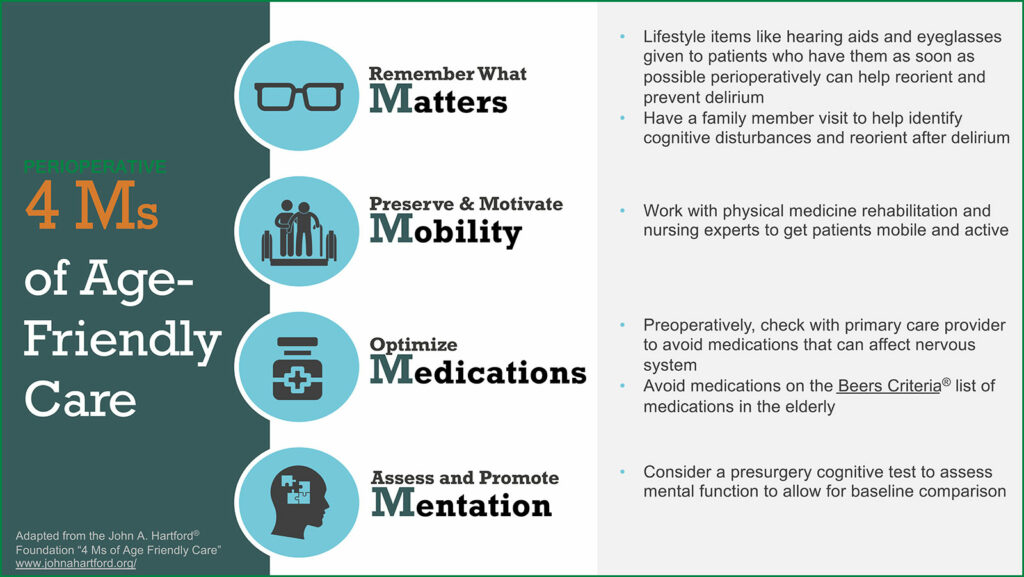 For listeners on YouTube, if you'd like to be notified of future APSF podcasts and livestreams be sure to click the "Subscribe" button, then click the bell and select "All."
Subscribe to our YouTube Channel here: https://www.youtube.com/@AnesthesiaPatientSafety
Be sure to check out the APSF website at https://www.apsf.org/
Make sure that you subscribe to our newsletter at https://www.apsf.org/subscribe/
Follow us on Twitter @APSForg
Questions or Comments? Email me at [email protected].
Thank you to our individual supports https://www.apsf.org/product/donation-individual/
Be a part of our first crowdfunding campaign https://www.apsf.org/product/crowdfunding-donation/
Thank you to our corporate supporters https://www.apsf.org/donate/corporate-and-community-donors/
Additional sound effects from: Zapsplat.
© 2023, The Anesthesia Patient Safety Foundation
Hello and welcome back to the Anesthesia Patient Safety Podcast.  My name is Alli Bechtel, and I am your host. Thank you for joining us for another show. We are continuing the conversation about perioperative brain health and what anesthesia professionals can do to keep patient's safe. We hope you tuned in last week for Part 1 during episode # 164 and we are so excited that you are back for the exciting conclusion.
But before we dive into the episode today, you've heard me recognize our corporate supporters on this show, but there's another supporter who is absolutely essential – YOU! Every individual donation matters so much. Please visit APSF.org and click on the Our Donors heading and consider making a tax-deductible donation to the APSF.
Our featured article again today is from the June 2023 APSF Newsletter. It is "Perioperative Brain Health: A Patient Safety Priority All Anesthesia Professionals Must Address." By Natalie Moreland and colleagues. To follow along with us, head over to APSF.org and click on the Newsletter heading. First one down is the current issue. Then, scroll down until you get to our featured article today. I will include a link in the show notes as well.
To kick off the show today, we are going to start with some definitions.  Check out the show notes for the citation as well. First up, the Nomenclature Consensus Working Group defines Perioperative Neurocognitive Disorders as "cognitive impairment or change identified in the preoperative or postoperative period." There are several distinctive categories as well including:
Preoperative cognitive impairment
Postoperative delirium which may be defined as an acute fluctuating state of confusion, inattention, and level of consciousness. Remember, this is an acute process that occurs within 7 days following surgery.
Delayed neurocognitive recovery – which involves impairment within the first 30-days after surgery.
Postoperative neurocognitive disorder – which occurs between 30-days and 12-months after surgery.
Our focus today is perioperative brain health which is one of the APSF Patient Safety Priorities. This is a concern for older patients, families, and caregivers and a threat to anesthesia patient safety. Last week, we talked about what anesthesia professionals can do to help optimize patient's brain health throughout the perioperative period. Let's review these considerations now.
The first step is to perform a cognitive screening test and risk factor assessment for perioperative neurocognitive disorders for patients over the age of 65. There are several cognitive screening tests that may be used in the preoperative anesthesia clinic including the Mini-Cog, the Mini-Mental State Examination, and the Montreal Cognitive Assessment.
The next steps for patients with an abnormal screening test may include:
Further evaluation and treatment for a potential cognitive deficit
Discussion about the risk of perioperative neurocognitive disorders prior to the surgical intervention
Consideration for additional resources and interventions that may be beneficial for high-risk patients.
Interventions for delirium may include the following:
Mobilization
Orientation
Sleep hygiene
Returning personal items (glasses, hearing aids, and dentures) after surgery
Education about delirium for health care professionals.
Another important step is to avoid specific medications for patients who are at risk for perioperative neurocognitive disorders. These may include benzodiazepines, anticholinergics, antipsychotics, meperidine, and gabapentin for high-risk patients. In addition, the anesthetic plan should include multi-modal pain management with consideration for limiting opioid administration.
Now, it's time to get back into the article. The authors discuss the use of processed electroencephalogram or EEG-guided anesthetic dosing to decrease postoperative delirium and perioperative neurocognitive disorders. Currently, there is conflicting data. Perhaps, patients who are at the highest risk for delirium may benefit from the use of EEG-guided anesthetic dosing to help prevent anesthetic overdose leading to brain activity suppression. In addition, the data is not clear about the impact of intraoperative blood pressure management and the anesthetic technique on perioperative neurocognitive decline. The guidance we have at this time comes from the Best Practices for Perioperative Brain Health which admits that further research is needed in this area and at this time anesthesia professionals [quote] "should monitor age-adjusted end-tidal minimal alveolar concentration or MAC, fraction, strive to optimize cerebral perfusion, and perform EEG-based anesthetic management in older adults." I will include this citation in the show notes as well. Plus, let's look a little closer at these best practice for perioperative brain health right now. These recommendations are from the fifth international perioperative neurotoxicity working group which focused on 4 priorities: preprocedural consent, preoperative cognitive assessment, intraoperative management, and postoperative follow-up. Here are the consensus statements that I will read from the article.
"All patients over age 65 should be informed of the risks of PND including confusion, inattention, and memory problems after having an operation."
"Baseline cognition should be objectively evaluated with a brief screening tool during preoperative evaluation in all patients over the age of 65 and in any patient with risk factors for preexisting cognitive impairment."
"Anesthesiologists should monitor age-adjusted end-tidal MAC fraction, strive to optimize cerebral perfusion, and perform EEG-based anesthetic management in older adults. Further research is needed to evaluate and compare specific brain function monitors, methods, and approaches."
"More studies are needed to evaluate the efficacy, feasibility, and cost-effectiveness of various strategies to assess short- and long-term cognitive outcomes after hospital discharge, to optimally manage these disorders, and to clarify who should follow patients after surgery for these disorders and what patients should be told about the current understanding regarding recovery from these disorders."
This article provides excellent information about using intraoperative EEG-based monitoring. Let's take a closer look at the literature. The results of a couple studies revealed decreased delirium rates when the Bispectral Index was used to titrate the depth of anesthesia. Another study found decreased rates of postop cognitive dysfunction 3 months after surgery for patients with intraoperative BIS monitoring and titration, but additional studies revealed no effect or improved postop cognitive function associated with lower BIS values. Here are some of the concerns with BIS monitoring and titration of the anesthetic:
The proprietary algorithm as not been validated for older adults.
The flat relationship between end-tidal age-adjusted volatile anesthetic concentrations and BIS values over the range from 0.5-1.5 MAC.
The data from raw EEG signal parameters may be helpful for titrating anesthesia to avoid burst suppression or based on other signal parameters to help decrease the risk for postoperative delirium and cognitive dysfunction. While further research is needed, there is evidence to support EEG-based anesthetic titration to decrease perioperative neurocognitive disorders for older adults.
It's time to return to the APSF article. The authors address the topic of comprehensive programs that may help to identify high-risk patients and address factors contributing to perioperative brain health. Do you have a perioperative brain health program at your institution?
The University of California, San Francisco implemented the "Perioperative delirium Prevention and Treatment Pathway." The firsts step was to identify stakeholders and obtain feedback. Next, educational material was provided by email and at department meetings. The pathway involves screening patients with the AWOL-S tool which includes the following:
Age >80 years old
Failure to spell WORLD backwards
Not oriented to place
Illness severity using ASA status.
Surgery-specific risk using the National Surgical Quality Improvement Program Data.
These screening questions were completed by nurses during the preoperative evaluation. Patients with a greater than 5% risk for delirium were flagged with a banner in the electronic medical record. The standard PACU order set was modified to remove several Beers Criteria potentially inappropriate medications. As you can see, these changes were added to the existing workflows and included automated processes in the EMR which helped to improve compliance and successful implementation.
A program at the University of Southern California found that it was feasible to use the Mini-Cog test for cognitive screening at the preoperative evaluation clinic. Then, high-risk patients could be flagged in the EMR and referred to a geriatrician and geriatric pharmacist before surgery. Over 20% of patients screened positive for cognitive impairment with a large proportion who would have been missed without the screening test.
The authors ask an important question, "how can we integrate the existing recommendations and published experience into our clinical practice?" There is more work that needs to be done in this area since less than 10% of patients undergo preoperative screening. It is important to engage stakeholders which may include nurses, surgeons, patients, families, organizational and departmental leadership, and pharmacists. We need to work together.
Plus, we can draw on our experience with pre-existing Enhanced Recovery After Surgery protocols to develop multidisciplinary team-based approach to improve perioperative brain health with evidenced-based interventions. You may want to incorporate a Brain-ERAS protocol into your existing protocols to help improve perioperative brain health. Check out the article, "Mitigation of perioperative neurocognitive disorders: A holistic approach" published in 2022 for their Brain-ERAS pathway.
The Brain-ERAS pathway includes a preoperative phase with cognition, IADLs, frailty, and delirium screen, tailored delirium education, Pre-anesthesia evaluation clinic referral, lifestyle modification, and pharmacy review. The admission phase includes intraoperative and postoperative interventions. Intraoperative interventions include target light anesthesia and multi-modal pain management strategies. Postoperative considerations include non-pharmacologic strategies to reduce delirium, sensory aid supports, orientation supports, optimal pain management, early mobilization, delirium screen once per shift, referral to geriatrics or neurology. The discharge phase includes patient and family education about nutrition, exercise, lifestyle factors, and changes in cognition and function as well as delirium and cognition screen with referral if needed. Finally, post-discharge on the pathway includes evaluation of cognition, IADLs, and delirium screen at the postop surgical visit with referral if appropriate.
The authors conclude with a call to action to take advantage of the movement with patients becoming informed and active participants in their health, and work with patients, their caregivers, and their care teams to improve patient outcomes and optimize perioperative brain health.
If you have any questions or comments from today's show, please email us at [email protected]. Please keep in mind that the information in this show is provided for informational purposes only and does not constitute medical or legal advice. We hope that you will visit APSF.org for detailed information and check out the show notes for links to all the topics we discussed today.
Have you subscribed to the APSF YouTube Channel yet? If not, what are you waiting for?! We will be broadcasting the 2023 APSF Stoelting Conference on our YouTube Channel with a livestream. For listeners on YouTube, if you'd like to be notified of future APSF podcasts and livestreams be sure to click the "Subscribe" button, then click the bell and select "All."
I will include a screenshot in our show notes as well. Be sure to mark your calendars for September 6-7 and you can be notified about the conference livestream to learn all about "Emerging Medical Technologies – A Patient Safety Perspective on Wearables, Big Data and Remote Care."
Until next time, stay vigilant so that no one shall be harmed by anesthesia care.
© 2023, The Anesthesia Patient Safety Foundation