Welcome to the next installment of the Anesthesia Patient Safety podcast hosted by Alli Bechtel.  This podcast will be an exciting journey towards improved anesthesia patient safety.
Our featured article today is from the June 2023 APSF Newsletter. It is "Perioperative Brain Health: A Patient Safety Priority All Anesthesia Professionals Must Address." By Natalie Moreland; Lena Scotto; Arnoley Abcejo; and Emily Methangkool.
Check out Figure 1 in the article to see the "Age-Friendly Health System" and the framework of the 4 Ms: What Matters, Mobility, Medication, and Mentation.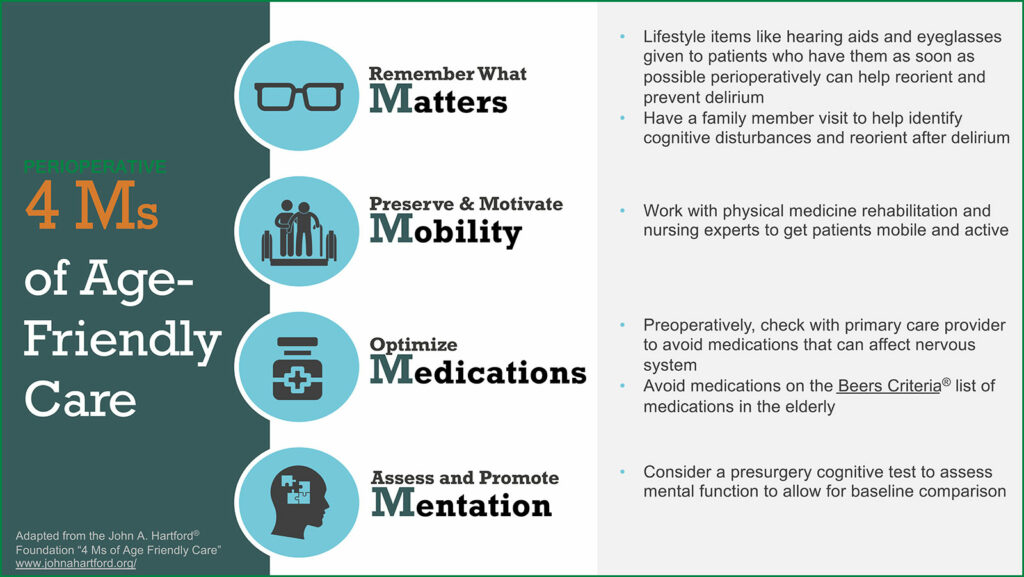 The John A. Hartford® Foundation, "4 Ms of Age-Friendly Care." https://www.johnahartford.org/grants-strategy/current-strategies/age-friendly/age-friendly-care. Accessed November 7, 2022.
Here are some of the citations that we talked about on the show today:
"American Geriatrics Society 2019 Updated AGS Beers Criteria® for Potentially Inappropriate Medication Use in Older Adults" By the 2019 American Geriatrics Society Beers Criteria® Update Expert Panel. First published: 29 January 2019 https://doi.org/10.1111/jgs.15767Citations: 1,528
Chen CC, Li HC, Liang JT, et al. Effect of a modified hospital elder life program on delirium and length of hospital stay in patients undergoing abdominal surgery: a cluster randomized clinical trial. JAMA Surg. 2017;152:827–834. PMID: 28538964
Check out Figure 2 in the article for a list of medications that should be avoided when possible, in older patients.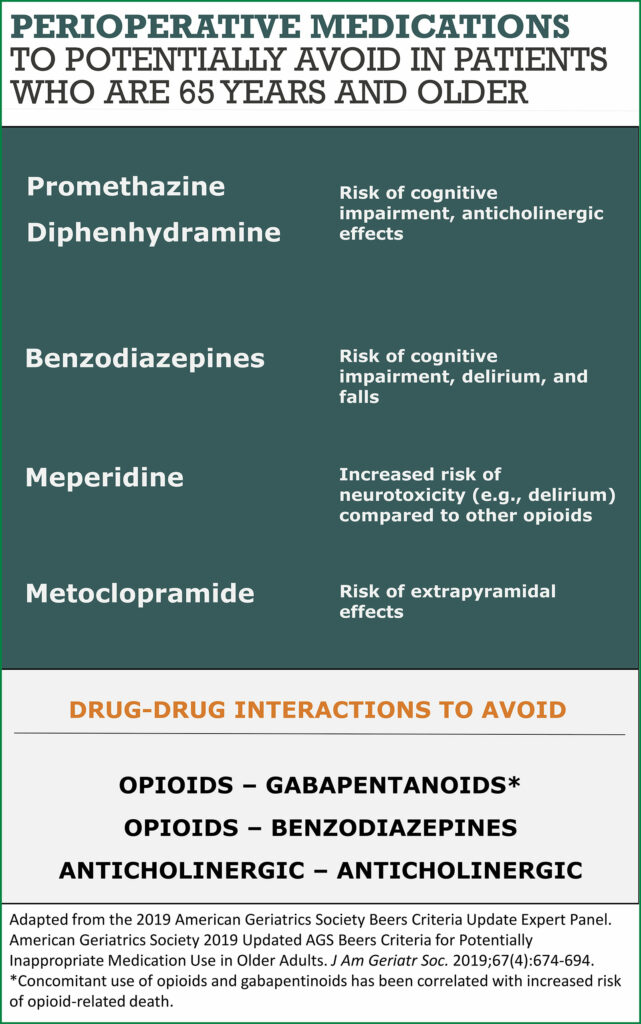 Subscribe to our YouTube Channel here: https://www.youtube.com/@AnesthesiaPatientSafety
Be sure to check out the APSF website at https://www.apsf.org/
Make sure that you subscribe to our newsletter at https://www.apsf.org/subscribe/
Follow us on Twitter @APSForg
Questions or Comments? Email me at [email protected].
Thank you to our individual supports https://www.apsf.org/product/donation-individual/
Be a part of our first crowdfunding campaign https://www.apsf.org/product/crowdfunding-donation/
Thank you to our corporate supporters https://www.apsf.org/donate/corporate-and-community-donors/
Additional sound effects from: Zapsplat.
© 2023, The Anesthesia Patient Safety Foundation
Hello and welcome back to the Anesthesia Patient Safety Podcast.  My name is Alli Bechtel, and I am your host. Thank you for joining us for another show. Okay, imagine yourself in the preoperative holding area and you have just finished your history, physical, and consent and you ask your patient, "Do you have any other questions about the anesthesia?" And your patient asks you, "how will the anesthesia affect my brain?" Have you ever been asked this question? What was your answer? Stay tuned because we are discussing this and more today!!
Before we dive into the episode today, we'd like to recognize Nihon Kohden America, a major corporate supporter of APSF. Nihon Kohden America has generously provided unrestricted support to further our vision that "no one shall be harmed by anesthesia care". Thank you, Nihon Kohden America – we wouldn't be able to do all that we do without you!"
Our featured article today is from the June 2023 APSF Newsletter. It is "Perioperative Brain Health: A Patient Safety Priority All Anesthesia Professionals Must Address." By Natalie Moreland and colleagues. To follow along with us, head over to APSF.org and click on the Newsletter heading. First one down is the current issue. Then, scroll down until you get to our featured article today. I will include a link in the show notes as well.
Did you know that perioperative brain health is one of the APSF Patient Safety Priorities? This is a concern for older patients, families, and caregivers and a threat to anesthesia patient safety. The threat may be increasing since the number of Americans aged 65 and over will double to 95 million by 2060. Plus, almost 40% of all surgical procedures are performed on patients over 65 years old. With increasing age, there are increases in frequency and complexity of comorbidities leading to challenging perioperative care and increased risk for worse outcomes including, our topic today, perioperative neurocognitive disorders. Anesthesia professionals need to consider optimizing brain health throughout the perioperative period by identifying high risk patients and taking steps to decrease perioperative neurocognitive disorders. A key consideration is using a multidisciplinary, team-based approach with interventions in the preoperative, intraoperative, and postoperative periods.
According to the National Academy of Medicine, the increasing population of elderly patients is a defining challenge of the 21st century. As a result, in 2017, The John A. Hartford Foundation and the Institute of Healthcare Improvement partnered with the American Hospital Association and the Catholic Health Association of the United States to create the "Age-Friendly Health System" with the goal to improve the health, productivity, and quality of life of older adults. Is your institution an Age-Friendly Health System? We are going to review the components now. You can check out Figure 1 in the article for a visual representation as well and I will include it in the show notes as well.
The Age-Friendly Health System uses a framework of the 4 Ms including: What Matters, Mobility, Medication, and Mentation.
First, remember What Matters including lifestyle items like hearing aids and eyeglasses should be given to patients who have them as soon as possible perioperatively to help reorient and prevent delirium. In addition, having a family member visit may help identify cognitive disturbances and reorient after delirium.
Next is to Preserve and Motivate Mobility which includes working with physical medicine rehabilitation and nursing experts to get patients mobile and active.
The next M is to Optimize Medications which may involve a preoperative check with the primary care provider to avoid medications that can affect the nervous system and to avoid medications on the Beers Criteria list of medications in the elderly. Don't worry, we will review the Beers Criteria as well, but we need to finish our list of the 4 Ms.
The fourth M is to Assess and Promote Mentation which includes considering a pre-surgery cognitive test to assess mental function to allow for baseline comparison throughout the perioperative period.
And now it's time to go back and review the Beers Criteria. The American Geriatrics Society Beers Criteria is a list of potentially inappropriate medications that should not be given to older adults in most circumstances or under specific situations. This list was recently updated in 2019. These criteria may be used for adults 65 years and older in clinical settings including ambulatory, acute, and institutionalized care settings, but this does not include hospice and palliative care settings. I will include the citation in the show notes so you can check out the full list of medications. Check out Figure 2 in the article for a helpful infographic for Perioperative Medications to potentially avoid in patients who are 65 years and older. First up, Promethazine and Diphenhydramine which are first generation antihistamines that have an increased risk for cognitive impairment and anticholinergic effects. Next, Benzodiazepines are best avoided due to the increased risk for cognitive impairment, delirium, and falls in elderly patients. Meperidine is an opioid that should be avoided due to the higher risk for neurotoxicity and delirium with safer alternative medications available. Metoclopramide should also be avoided since there is an increased risk for extrapyramidal side effects including tardive dyskinesia especially in frail, older adults with prolonged exposure. There are some important drug-drug interactions to be aware of as well. These include opioids with benzodiazepines and opioids with gabapentanoids. This is a big threat to anesthesia patient safety since the interaction between opioids and gabapentanoids has been correlated with an increased risk for opioid-related death. Another consideration is the interaction between multiple anticholinergic medications leading to an increased risk for cognitive decline. It is important to minimize the number of anticholinergic medications administered to older adults. Check out Table 7 in the Updated 2019 AGS Beers Criteria for a list of medications with strong anticholinergic properties.
Let's get back into the article and discuss the impact of perioperative neurocognitive disorders. The most common adverse event after surgery in older adults is postoperative delirium, characterized by inattention and confusion occurring within 7 days of surgery, with an incidence of 65%. As you can see this is a big threat to anesthesia patient safety. There is also a high cost associated with postoperative delirium with an estimated cost of $32.9 billion each year. There is an increased risk for postoperative delirium in patients with preoperative risk factors combined with intraoperative and postoperative factors. Predisposing factors may include age greater than 65 years old, pre-existing cognitive decline, poor baseline functional status, visual or sensory impairment, and chronic illness.
Intraoperative factors may include longer duration of surgery and more invasiveness of the procedure.
Postoperative factors include pain management options and the use of certain medications.
Once patients develop postoperative delirium, there may be increased length of stay, higher morbidity and mortality, and significant distress for patients and their family members. Keep in mind that patients with normal cognition prior to surgery who experience postoperative delirium are more likely to have impaired cognition later. In addition, delirium is associated with longer-term neurocognitive decline. There is a call to action for anesthesia professionals to be aware of the risk factors for delirium and to help prevent it. According to the Hospital Elder Life Program or HELP, which is an evidence-based approach targeted at risk factors for delirium, almost 50% of delirium cases could be prevented.
Using a modified HELP protocol with orienting communication, early mobilization, and oral and nutritional assistance, a study in surgical patients resulted in a decreased incidence of delirium by 56%. The investigators asserted that the program was so effective due to closely following the protocol everyday with dedicated nurses.  For more information about this study by Chen and colleagues published in JAMA Surgery in 2017. I will include the citation in the show notes as well.
So, what can anesthesia professionals do to help keep patient's brains safe during anesthesia care? The good news is that there are best practice guidelines that focus on maintaining perioperative brain health from the American Geriatric Society, the American College of Surgeons, the American Society of Anesthesiologists Brain health Initiative as well as the Sixth Perioperative Quality Initiative consensus conference and the Fifth International Perioperative Neurotoxicity Working Group. These guidelines can help identify patients at risk for cognitive decline and prevent cognitive impairment after surgery.
Pre-existing cognitive impairment is a significant risk factor for postoperative delirium. Thus, the guidelines recommend performing a cognitive screening test and risk factor assessment for perioperative neurocognitive disorders for patients over the age of 65. There are several cognitive screening tests that may be used in the preoperative anesthesia clinic including the Mini-Cog, the Mini-Mental State Examination, and the Montreal Cognitive Assessment. These screening tests are quick, easy to use, and do not require formal training.
The next steps for patients with an abnormal screening test may include:
Further evaluation and treatment for a potential cognitive deficit
Be informed of the risk of perioperative neurocognitive disorders prior to the surgical intervention.
Be referred to resources and interventions that are beneficial for high-risk patients.
Interventions for delirium include the following:
Mobilization
Orientation
Sleep hygiene
Returning personal items (glasses, hearing aids, and dentures) after surgery
Education about delirium for health care professionals.
Another important step is to avoid specific medications for patients who are at risk for perioperative neurocognitive disorders. We talked about this earlier on the show as one of the 4 M's. Remember, the American Geriatrics Society Beers Criteria recommends avoiding potentially inappropriate medications including benzodiazepines, anticholinergics, antipsychotics, meperidine, and gabapentin for high-risk patients. In addition, the anesthetic plan should include multi-modal pain management with limited opioids. If we look at the literature, there is strong evidence for the association between these medications and postoperative delirium. This is an area where anesthesia professionals can have an important role for improving perioperative brain health.
There is more that anesthesia professionals can do to help improve perioperative brain health, but you will have to tune in next week. Spoiler alert, we will be talking about EEG monitoring and comprehensive programs.
If you have any questions or comments from today's show, please email us at [email protected]. Please keep in mind that the information in this show is provided for informational purposes only and does not constitute medical or legal advice. We hope that you will visit APSF.org for detailed information and check out the show notes for links to all the topics we discussed today.
Have you checked out all of the APSF Patient Safety Resources? Head over to APSF.org and click on the Patient Safety Resources. From here you can explore the COVID Perioperative Resource Center, all of the Anesthesia Patient Safety Podcast episodes, the APSF Video Library, News and Updates, our new In the Literature section so that you can dive into the literature, the APSF Technology Education Initiative, the Emergency Manuals Implementation Collaborative, the perioperative multi-center handoff collaborative, Look alike drug vials, drug-drug interactions, innovative reports and ideas, international resources, and helpful links. With all of these great resources, you will be well on your way to becoming an anesthesia patient safety champion.
Until next time, stay vigilant so that no one shall be harmed by anesthesia care.
© 2023, The Anesthesia Patient Safety Foundation