APSF recognizes and thanks those individuals who have generously supported APSF through an estate or legacy gift.
---
Steve and Janice Barker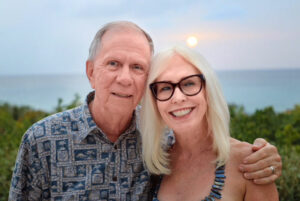 After my first career in aerospace engineering, I went into medicine in my mid-thirties and became an anesthesiologist. Throughout my second career, I have tried to apply lessons from the first one to improve patient safety. Medicine and particularly anesthesiology can learn a great deal from aviation and getting those lessons into clinical practice has been a major goal for me. Early on in this mission, I discovered that the APSF has many of the same goals I have, and that APSF is very supportive of using novel approaches to improve patient safety. I found that Bob Stoelting, Mark Warner, and now Dan Cole are very open-minded in this respect, and all of the APSF staff have been very supportive. About ten years ago I helped organize the Patient Safety Movement Foundation (PSMF), founded by Joe Kiani of Masimo. APSF and PSMF (an alphabet soup mouthful) have much in common in our missions and strategies, and I have tried to help broker increasing collaboration between the two. APSF has been open to this idea, and together we have moved forward with the relationship.
In summary, the APSF mission is my mission, the APSF leaders and members are my good friends, and they are the people with whom I want to work. I am therefore honored to become a member of the Legacy Society as one more way I can support the APSF.
---
Dan and Cristine Cole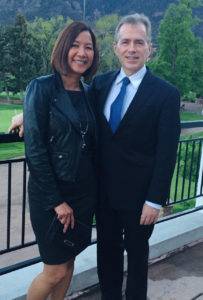 We went into medicine to make the world a better place. How professionally and personally gratifying it is to be an anesthesiologist and have a role in the miracles of medicine. But how tragic it is whenever I hear of an instance where the medical system that was intended to help a human being ends up harming them. The Anesthesia Patient Safety Foundation (APSF) has a mission that we can all connect to and it is an honor to work with the many selfless professionals at APSF who volunteer their time to eradicate preventable harm. It is a mission that Cristine and I are privileged to support.
---
Jeffrey and Karma Cooper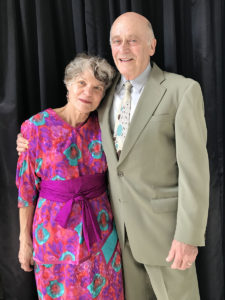 As a founding member of the APSF Executive Committee, I take great satisfaction in the sustained leadership and success of this organization in advancing perioperative patient safety.
What is so remarkable and has brought me great personal pleasure and joy, is the continuous, unwavering, extraordinary mutual respect, support and camaraderie of the Executive Committee. Despite almost complete replenishment of its composition more than once over the more than 30 years since the APSF's inception, that team has sustained those qualities and continued to evolve and work effectively. The current board and leadership are a new generation; I have no doubt that they will continue that legacy of working together effectively, of innovating to meet the new challenges ahead and enjoying their working together. My expectation is that there will be a need for APSF far into the future because it will continue to evolve to meet the future needs of patient safety. Our trust in that is secure; Thus, Karma and I are confident that our pledge of support from our estate will be a worthy investment in the future.
---
Burton A. Dole, Jr.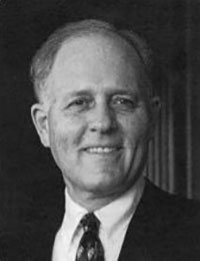 ---
Dr. John H. and Mrs. Marsha L. Eichhorn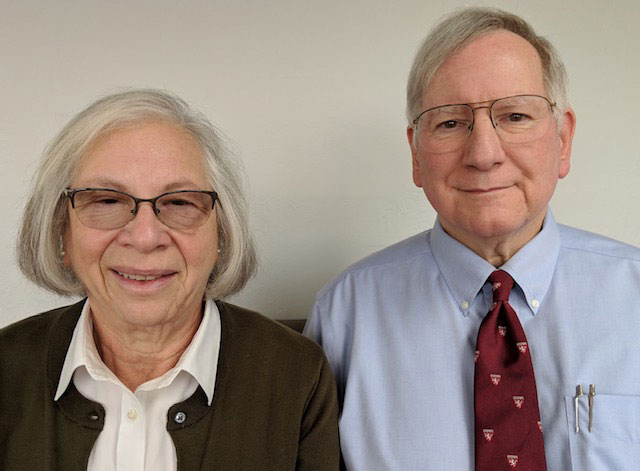 Having been intensely involved with the APSF since its creation in 1985, of course we are supporting its long-term survival and success, including through a contingent legacy grant as part of our estate plan.
---
Jeffrey and Debra Feldman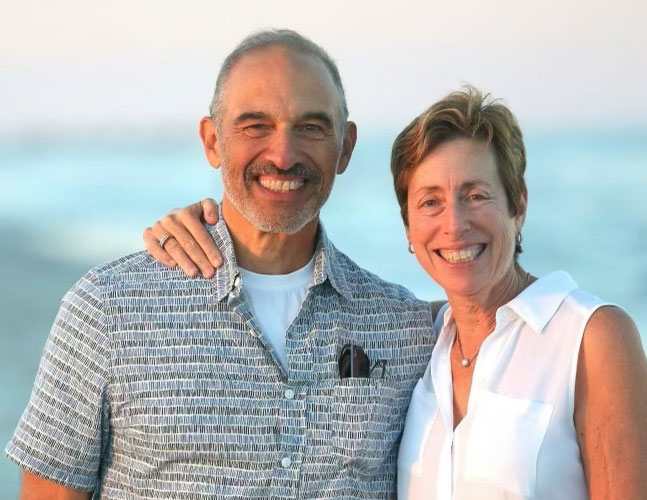 When Deb and I arrived at the University of Florida to begin my training in Anesthesiology we were both welcomed into the department and anesthesia community by Dr. JS (Nik) Gravenstein and his wife, Alix. Nik provided mentorship and a role model of an accomplished anesthesiologist, who was never satisfied with the status quo and was driven to enhance the safety of anesthesia practice. He was among a few visionaries who recognized the essential role of technology in patient care at a time when digital electronics were opening up possibilities for patient monitoring that had previously been impossible. Partnering with industry, he and others helped to shape the technology we use every day to keep patients safe. Nik was one of the founders of the APSF and, as a young trainee, I witnessed the birth of the organization, never dreaming that I might one day be able to contribute personally. What a privilege and joy it is to be a part of an incredible community of people who dedicate countless hours to promoting patient safety.
How does one decide where to spend their time and resources in life for the most impact? It is difficult to find organizations as impactful in our specialty on anesthesia care at the bedside as the APSF. This foundation embraces all anesthesia professionals to achieve the mission that "no one shall be harmed by anesthesia care." The newsletter is translated into eight languages and read worldwide! Deb and I are pleased to be able to strengthen the Anesthesia Patient Safety Foundation as members of the legacy society.
---
David Gaba, MD and Deanna Mann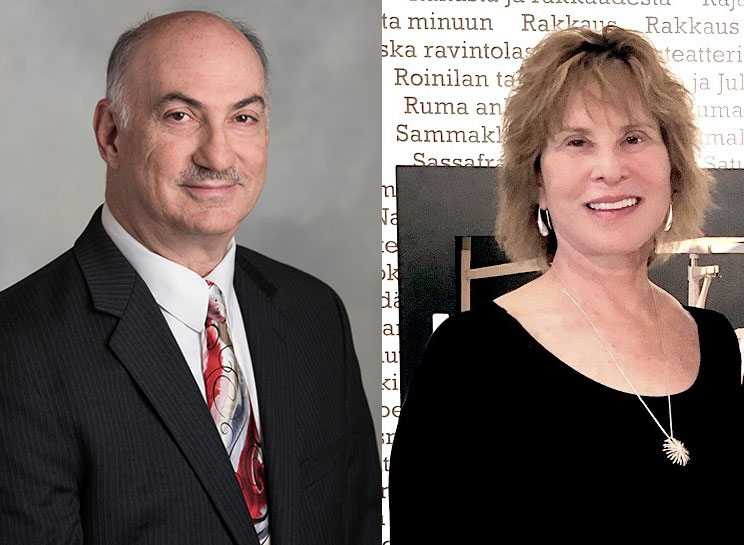 Our two careers in healthcare were dedicated to the provision of safe patient care. David's academic mission centered on patient safety – both on its theoretical basis and on a number of practical avenues to bring it to fruition around the world. Without APSF's support of these efforts, and those of countless others, patient safety as a specific targetable goal would never have come to the fore. That "no one shall be harmed by anesthesia care" is a vision that we believe should continue in perpetuity.
Deanna Mann, RN, BSN, RNP, MSN is a Registered Nurse and Women's Health Nurse Practitioner specializing in Obstetrics and Gynecology. She has worked in both hospital and community clinic settings, giving care to patients of diverse economic and cultural backgrounds. Dr. David Gaba is an anesthesiologist at Stanford School of Medicine and at VA Palo Alto Health Care System. He has served as a Director of the APSF continuously from 1990 through 2019, as well a member of its Executive Committee, and Secretary, at various times in this period. He was also a founding member of the American Society of Anesthesiologists' Simulation Editorial Board. He was a founding board member of the Society for Simulation in Healthcare and the founding editor-in-chief of its peer-reviewed journal Simulation in Healthcare"
---
Drs. Alex & Carol Hannenberg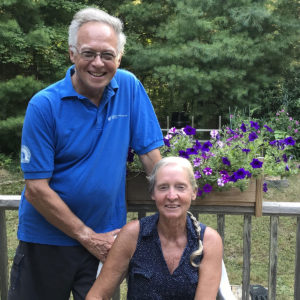 The groundbreaking improvements in clinical outcomes and patient safety for which the specialty of anesthesiology is known – above all other disciplines – has been a profound source of pride for me. To call myself an anesthesiologist and be associated with the work and achievements of so many I admire deeply is a privilege. The APSF is the home of these people and this work and its commitment to ceaselessly capture opportunities to protect our patients deserves our support.
Carol and I are delighted to provide for ongoing support of APSF in our estate planning and encourage others to do so.
---
Drs. Joy L. Hawkins and Randall M. Clark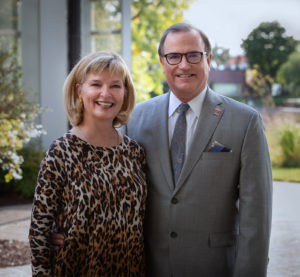 We are very pleased to be part of the APSF Legacy Society. A foundation like APSF that focuses on the safety of patients is an essential part of our identity as anesthesiologists. As others before us have correctly observed, the safety of our patients is at the center of everything we do as physicians.
Joy and Randy are both professors of Anesthesiology at the University of Colorado School of Medicine in Denver. Joy is the head of obstetric anesthesia for the Department of Anesthesiology and University Hospital. She has previously served as President and Chair of the Board of Directors for the Foundation for Anesthesia Education and Research. Randy is a pediatric cardiac anesthesiologist at Children's Hospital Colorado. In October 2019 Randy became ASA First Vice President and is slated to become president of ASA in October 2021. Randy and Joy have two daughters, Catherine and Victoria, both of whom are in graduate school.
---
Dr. Eric and Marjorie Ho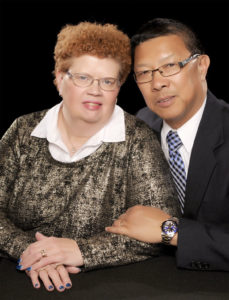 Vigilance and safety are integral parts of anesthesia practice. And I had benefited from the APSF Newsletter since summer of 1990, both in my practice and teaching of medical students. Now I have retired and want to pay back by joining the APSF Legacy Society.
---
Drs. Michael and Georgia Olympio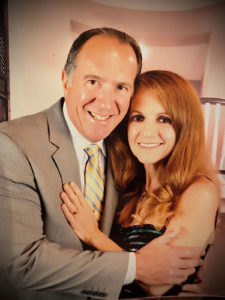 My first anesthesia "machine" failure made a dramatic presentation when we had to induce general anesthesia for a patient who became ischemic after carotid cross-clamping. My student could not ventilate the now-intubated patient. Were it not for sudden astonishment leading me to action (while aggressively trying to ventilate, the bag and a cork flew off the bag-arm) our patient might have been severely harmed!
A single dramatic event can trigger a lifetime commitment to patient safety; for me it pertained to technology and there was no better organization than the APSF to foster a passion for the understanding, application, teaching and troubleshooting of anesthesia technologies to improve patient safety. While serving as Chair of the Committee on Technology, my team endeavored to bring clinicians and industry engineers together for the benefit of patients, by promoting respectful critiques of technical safety issues through the ever-popular Dear SIRS (now RAPID Response) column in the Newsletter.
Without the unwavering support and love from my wife, Dr. Georgia K. Olympio, I could not have dedicated the time that I did to the APSF, and to my education roles at ASA and Wake Forest School of Medicine. Together, we shared the joy and camaraderie of working and associating with the finest anesthesia safety experts. Now, even in the earliest years of our retirement, we feel compelled to pledge Legacy support for the vision of APSF, that "That no one shall be harmed by anesthesia care." Please join us in supporting this remarkable foundation!
---
Dru and Amie Riddle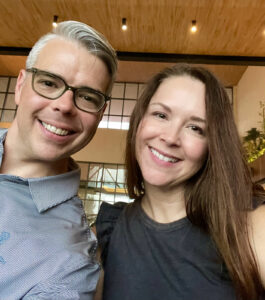 "No one shall be harmed by anesthesia care." The mission of APSF resonated deeply with us as we have dedicated our entire professional careers to ensuring safe care for patients. APSF is a critical part of accomplishing this goal and we are proud to support the Foundation in a way that we hope will be long-lasting. Legacy giving is critical to any organization, and we are honored to support an organization that aligns with our personal and professional values.
Dru is a Certified Registered Nurse Anesthetist (CRNA) and Amie is a Psychiatric Mental Health Nurse Practitioner (PMHNP).
---
Dr. Ephraim S. (Rick) and Eileen Siker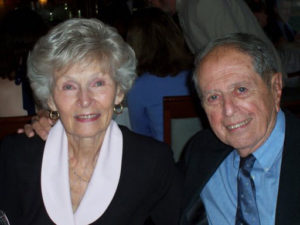 Rick's interest in anesthesia began as a third year medical student at NYU when he had a brief opportunity to cross paths with Emery Rovenstine, the first of future encounters. What an honor it was when Rick was invited to give the Rovenstine Lecture in 1981. Rick's circle of friends and influencers include too many to list, but a few names stand out: Drs. Frances Foldes, John Bonica, Pepper Jenkins, Richard Kitz, David Little, Bill Hamilton, Art Keats, Al Betcher, Don Benson, and most importantly Eileen B. Siker, his wife of more than 60 years. Rick was dedicated to patient safety and it's noteworthy that in 1996 he was invited to present the Lewis Wright Lecture. Rick's talk was titled; "Anesthetic Safety: an Evolution". This would turn out to be his final opportunity to address an ASA audience.
Rick's tenure with the APSF began in 1985 when he became the Founding Secretary. He was then appointed as the first Executive Director of the APSF, a role in which he served from 1992 – 1997.
Rick and Eileen Siker truly are an APSF legacy.
---
Robert K. Stoelting, MD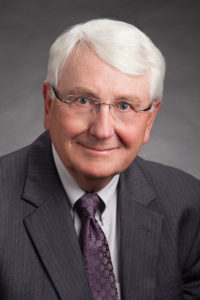 The Anesthesia Patient Safety Foundation (APSF) was established in 1985 with the vision "that no patient shall be harmed by anesthesia." A foundation dedicated solely to advocate for anesthesia patient safety was the goal of APSF's founding president, Ellison C. Pierce, Jr., MD. Today, APSF and anesthesiology are recognized world wide as pioneers in advocating for patient safety.
I had the privilege of following Dr. Pierce as the second president of APSF (1997-2016) and it was on the "shoulders of those early pioneers in APSF's history" that during my presidency APSF was able to both continue and expand its role in pursuing its mission that "no patient shall be harmed by anesthesia."
---
Mark and Mary Ellen Warner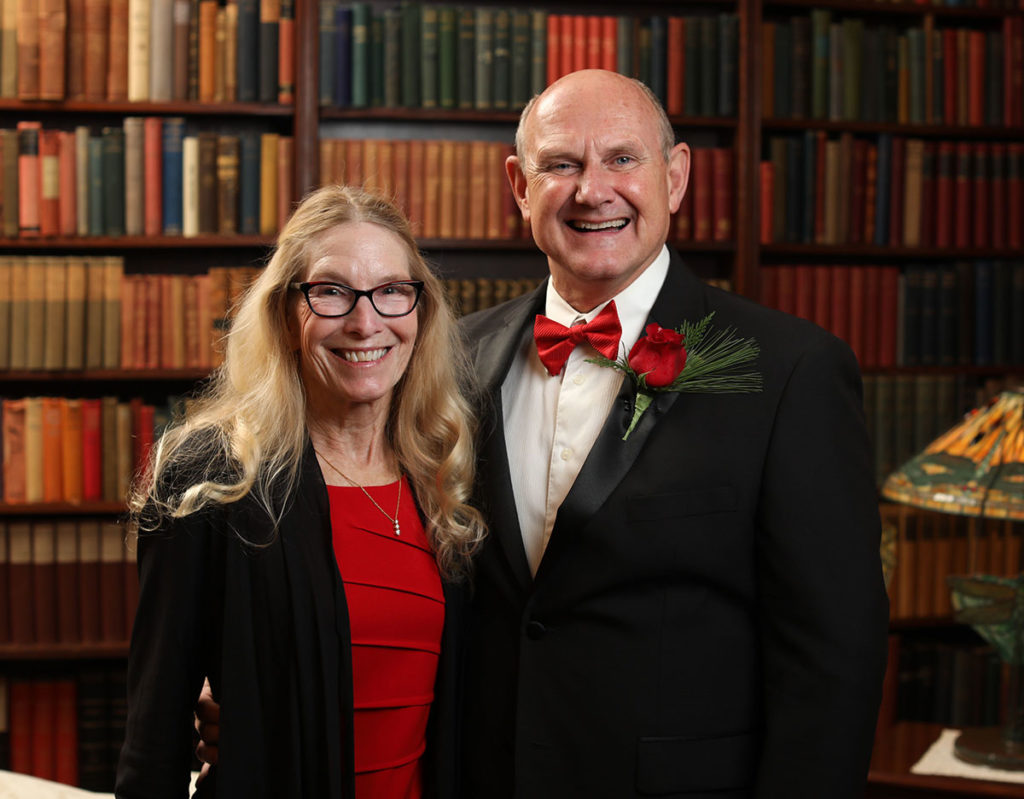 We believe that foundations such as the Anesthesia Patient Safety Foundation are fundamental to the future development of anesthesiology. The APSF is especially important to us as improving perioperative patient safety is such a noble cause and has been a major goal for us during our careers. We are proud to have the opportunity to help APSF fulfill its vision that "no one shall be harmed by anesthesia care."
Drs. Warner are anesthesiologists at the Mayo Clinic in Rochester, Minnesota. Mary Ellen has served as president of the American Society of Anesthesiologists' Wood Library Museum and is vice-president of the Anesthesia Foundation. Mark has served as president of the American Society of Anesthesiologists, been a director of the Foundation for Anesthesia Education & Research, and president of the APSF. Two of their sons and two of their daughters-in-law also are anesthesiologists at Mayo Clinic.
---
Drs. Susan and Don Watson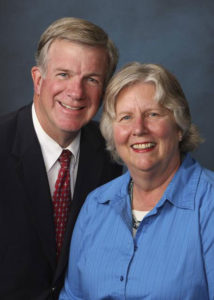 Throughout our careers in Pediatric Anesthesiology and Pediatric Cardiac Surgery, patient safety has been a fundamental priority. Having trained in the generation before the adoption of pulse oximetry, we have seen vast improvements in monitoring and safety over the decades. The Anesthesia Patient Safety Foundation has been the leader in encouraging, developing and refining safety measures for our patients and our specialty.
We hope that this support of APSF will help the foundation to continue its important mission.
---
Matthew B. Weinger, M.D. and Lisa Price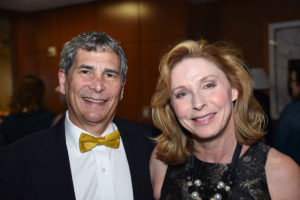 ---