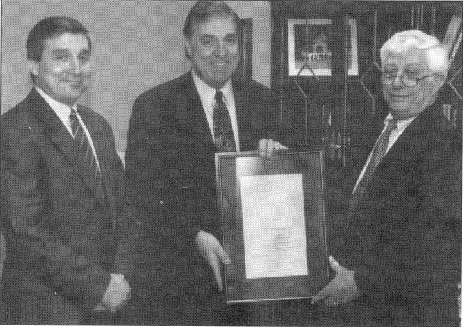 OHMEDA RECOGNIZED AS GRAND PATRON.
Ellison C. Pierce, Jr., M.D., President of the Anesthesia Patient Safety Foundation, (right) presents APSF Grand Patron plaque to Dr. Roger G. Stoll, President and CEO of Ohmeda (center) and Dr. Joseph Pepper, President of Ohmeda's Medical Systems Division (left) at a ceremony in the Ohmeda corporate headquarters.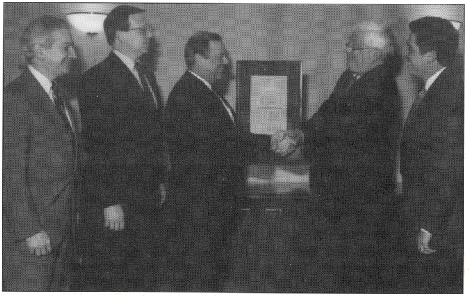 ZENECA RECOGNIZED AS GRAND PATRON.
Dr. Pierce (second from right) also traveled to the headquarters of Zeneca Pharmaceuticals Group and presented an APSF Grand Patron plaque to (left to right) Mr. Alan Milbauer, Vice President Pr External Affairs, Mr. Bruce Mather, Anesthesia Products Manager, Mr. Bob Black, President of Zeneca Pharmaceuticals, and (at far right) Mr. Gene Zaiser, Vice President for Sales and Marketing, Hospital Products.